Our food sources are far more limited than they need to be. Dr. Jasmin Hume and her company, Shiru, are determined to change that.
As Jasmin notes, 90% of the calories we consume come from 13 staple crops, but there are 400,000 plant species on Earth. Within those plants and other microorganisms, there are hundreds of millions of proteins. Her company deploys bioinformatics, a sophisticated tool that relies on computer-screening methods, to identify additional proteins that can be used in food development and preparation.
"The food and agricultural industry haven't even scratched the surface of the opportunities available to leverage plants as a food source," she says.
Finding alternatives to eggs and milk
One of the greatest opportunities will be to find proteins to replace eggs and dairy, both of which are ubiquitous in the preparation and development of many foods. Eggs and milk are used so often because they can do so much. They can stabilize, foam, and emulsify. Shiru is looking for proteins that can do all that without having the environmental impacts that raising chickens and cows do.
Jasmin explains there are proteins in plants that can form gels, foam or emulsify (a process that aids the combination of two ingredients that wouldn't ordinarily mix). There are plant proteins that can do this not only as well, but perhaps even better than egg or dairy proteins. And they can do it with less. You might need 10 grams of egg protein in a formulation to make a muffin, while only 2 grams of functional plant protein can perform just as well. Nature offers many examples of this potential, she says, so Shiru is looking to expand the opportunity set for the development of foods considerably.
Her team does its work by deploying machine learning. The scientific community offers large data sets of protein sequences and structures. Even for the most skilled team of data scientists, it would be a difficult and time-consuming process to identify the most promising proteins out of the hundreds of millions that can be analyzed. Machine learning helps the Shiru team to identify, rapidly and efficiently, the proteins that could serve as functional food ingredients.
Preparing for a looming crisis
The continuing impact of climate change and the world's growing population could lead to major food shortages in the next 20 to 30 years. If that does occur, the developing world will be the hardest hit.
The looming crisis gave Jasmin a sense of urgency to do something now to help address it. As a Ph.D. in materials chemistry with a focus on protein engineering, who had previously worked as the Research Director at Just (formerly known as Hampton Creek) and as a freelance consultant to other top alternative protein companies, Jasmin had an idea of what could help. Shiru's first step is to develop ingredients that can enable global food CPG companies to transform how they make sustainable, plant-based foods. Ultimately the firm's goal is to expand and create ingredients that can be used to develop foods that are nutritious and better for people, animals, and the planet.
As she says, the goal isn't simply to develop a fancy vegan cheese that can be sold at premium prices at natural food stores. Still, creating these types of products can be a first step toward bringing alternative foods to a broader market and addressing a global need that could become extreme in the coming decades.
The pandemic also exposed a number of problems with the food supply chain. The widescale closing of restaurants, for example, led to hundreds of millions of gallons of milk being poured down drains because there hadn't been the systems in place to properly forecast what the impact of those closings would be. Developing alternatives that might not spoil so easily could help sustain the food chain through periods of major disruption.
Finding the right support
Even though she is the sole founder of Shiru, Jasmin has not had to go it alone. She has received considerable support and guidance from her investors, and she notes that Emles Venture Partners has been exceptional in that role. "There's just been a level of professionalism in every interaction that not all investors exhibit," she says.
She has worked closely with Emanuel ("Manny") Zareh at Emles. "Manny regularly reaches out to share important industry news, give me names of people I should talk to as industry connections or candidates we might hire, and he regularly shares tips on managing the company and fundraising strategies. It's been really important to have that sounding board."
As Manny says, "Shiru presents a unique opportunity as it leverages computational design to create enhanced proteins that will feed the world sustainably." He adds, "This work can only be accomplished by a leader like Jasmin, whose background lies at the intersection of chemistry, biotechnology and materials science."
An intriguing name
In any conversation, the name of her company sparks interest. Jasmin chose it because in Chinese it means "looks like meat," and there is Chinese mythology related to how mushrooms resemble meat. It seemed the perfect name for a company aiming to provide substitutes for animal products. Since choosing it, she's found the word means many different things in a number of languages, all positive. That seems fitting because the goal of providing sustainable food to the world also translates well, in any language.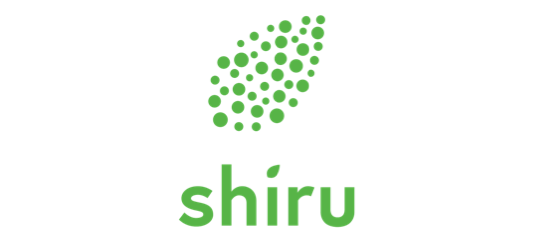 To feed people sustainably, Shiru leverages machine learning and precision biology to identify and create ideal food proteins.