Today, the most powerful and sought-after endorsers of brands might not be athletes, fashion models or Hollywood stars, but rather "amateur" content creators on social media sites like TikTok, Twitch, Instagram, and more. The startup Pillar has created an all-in-one business platform that makes it easier for creators to establish partnerships with their favorite brands.
When cofounders Faisal Younus and Michael Ivkov were students at Harvard, they noticed the rise of "mega content streamers," as Faisal calls them. The most prominent, then and now, is Ninja, the online alias of Tyler Blevins, a Twitch streamer, YouTuber and professional gamer. Today, Ninja has more than 68 million followers across social media platforms and is estimated to be worth at least $25 million.1
There are now 50 million content creators on YouTube, Instagram, TikTok and the video streaming service Twitch. Two million of them post content on a full-time basis and have annual earnings in the six figures.2 They are amateur because even though they may have affiliations with brands, they are on their own and not employed by any corporations.
Faisal and Michael decided they wanted to build a tool for content streamers that would enable them to easily connect with brands and thereby establish a stable career path.
Kids and adults want to be influencers
The growth of this market accelerated during COVID-19, with the restrictions on social gathering giving people more time at home to watch streamers. Content generators seized that opportunity. The number of active streamers on Twitch more than doubled, growing from 3.5 million in December 2019 to 8.5 million by November 2020, a 155% increase.3
Loyalty to top streamers suggests they will continue to attract viewers even as people have resumed participating in outside-the-home activities. As an example of this, at the start of the pandemic coffee reviews and coffee-making videos emerged as particularly popular on TikTok.4 One of the top coffee-related streamers, Maya Smith, started by sharing recipes for popular Starbucks drinks through her handle @starbucksrecipeswithm. She now has 2 million followers and continues to get high numbers of views for videos she now posts on a wide range of topics. 
The change in the culture became clear from a survey The Harris Poll conducted for Lego in 2019. When children in the U.S., U.K. and China were asked what they wanted to be when they grew up, the most commonly cited response – mentioned by 30% of them — was a YouTuber. That was nearly triple the amount who cited that once-popular dream of being an astronaut (11%).5 It's not just children with those aspirations. A survey by IZEA Worldwide found that 67% of regular social media consumers would like to be a paid media influencer for their favorite product or brand.6
A tool for all types of creators and brands
The top streamers on Twitch are mostly video game players, but Faisal says they developed a tool that works for all content creators including fashion bloggers, comedians, or generators of any other type of content.
Rudyard Lynch exemplifies the diverse range of content that streamers with sizable audiences now post. Under the handle Whatifalthist, he takes an alternative look at history and politics by answering questions like "What if the Ottoman Empire Never Fell?" and "What if the Japanese Won World War 2?"
He has 307,000 subscribers on YouTube. The income he earns is significant enough that he dropped out of college and now posts videos on a full-time basis. The loyalty of his fanbase is obvious from how quickly he amasses views. A video posted on July 23, "What if the Cold War Was a Normal War?" had 169,000 views by August 3. His audience profile is distinct from the viewers of livestream videogames, and those demographics appeal to an entirely different set of brands.
Multiple ways to realize income
Creators earn revenue in a number of different ways. Consider streamers, as an example. They can collect revenue in four ways. They can ask for donations or tips from viewers. They can play ads during their streams. They can also charge people for subscriptions and provide extra content for subscribers. Finally, they can earn income through sponsorships with brands. These sponsorships can play out in a variety of ways. A streamer using a company's product, recommending it on their social media platforms, or appearing at a live event hosted by the company, are a few examples of sponsorships in action.
As Faisal explains, Pillar's tool basically functions like a search engine, with many additional benefits for streamers and brands. A content streamer can do a search to learn which companies are relevant for them, given the type of content they generate. Once they find those companies, the tool will tell them what types of deals brands are offering streamers.
A video game player, for example, might use Pillar to discover a company that markets gaming desktops and peripheral devices is offering streamers who promote its products a 20% commission on sales generated from their followers, as well as a cash incentive and free products. The tool would then let the streamer review what the brand's terms and agreements are. A company might object to being associated with any offensive content, for example. If the streamer accepts the agreement, the Pillar tool provides a link they can use to promote the company's products.
Faisal and the Pillar team noticed when streamers were beginning to use links in their social media bios to deliver consolidated pages that highlight their presence on all sites. The Pillar team developed a component of the tool that makes it easy for streamers to post all the products they recommend on those pages. Streamers can also use those links-in-bio pages to make offers to brands to reach out to them with any deals.
Additionally, their tool makes it easy for streamers to track analytics on how their followers are engaging with the brands they're working with and also monitor all the types of revenue they are receiving from their various partnerships. The tool even provides an easy and convenient way for them to exchange messages with the leaders in brands' marketing departments.
The goal, as Faisal explains, is to provide more options for content creators to build their businesses by expanding the way fans can support them, and thereby enabling the content streamers to establish a reliable and stable source of income.
Access to millions of products from top brands
By the end of this year, Pillar expects to have over 10 million products from top brands available for creators to promote on its platform. The tool has already made significant traction with streamers. Pillar now sits number one on the Streamlabs App Store, for example. Streamlabs is the software platform that enables content generators to livestream on multiple sites like Twitch, YouTube and Facebook.
Faisal also emphasizes the Pillar ecosystem is two-sided, as brands can use it to quickly find relevant streamers and offer a variety of deals to them. Already, well-known brands like Reebok, Guayakí Yerba Mate, and Advanced.gg run and manage creator partnership programs on Pillar to connect with streamers.
A partner who understands that startups evolve
Since they "graduated" from a startup accelerator program in 2019, Faisal and Michael have made continual modifications in their business plan. As Faisal says, it is critical for founders to not be too devoted to their original vision because the markets and realities of executing their plan will inevitably demand significant changes.
He is grateful that one of Pillar's initial investors, Emles Venture Partners, has offered insights on when they've needed to pivot, while also providing expertise on how to evolve their business model each time they did. He and Michael have regular conversations with Emles partners Gabriel Hammond and Emanuel ("Manny") Zareh.
When Faisal travelled to New York recently, he even spent time working in the Emles office. He has regularly consulted with Manny when modelling how different scenarios for executing their plan could affect their firm's finances and growth projections. He says it has been incredibly useful to partner with investors who thoroughly understand their business. The direct access he gets to the Emles leaders has also been invaluable, he says, and a welcome relief from the layers of staff that often prevent that access to the heads of other venture capital firms.
Faisal and Manny's rapport kicked in quickly once they discovered they went to the same high school. Even though they attended years apart, they had the same English teacher who mentored them on the debate team.
As Manny says, "Faisal and I made a quick connection because we have so much in common. We went to the same school, were both debaters, and are both of Persian descent. We're also both passionate about the creator economy."
Manny adds, "We've forged a great working relationship, and what impresses me most about Faisal is his intellectual curiosity. He reads widely and is informed about such a broad range of topics, and that helps him work with these creators of such diverse content."
As is often the case in the way Emles works with founders, the relationship is highly collaborative. "We're a team that's working together to try to achieve a goal," says Manny. "Our door is always open for whenever Faisal, or any other founder, wants to bounce ideas off us."
The partnership between Emles and founders is mutually beneficial in multiple ways. Manny notes, "We've made introductions to help Faisal expand his network, and he has introduced us to other founders."
Competitors turned partners
Debate has played a pivotal role in Faisal's life. It was through debating that he met his cofounder, Michael. They were both debate champions and competed against each other. Their competition didn't stop them from becoming friends once they both learned they were headed to Harvard.
Now, with Emles' help, they have created a powerful tool for content creators and brand marketers alike. That point is hardly debatable.
References: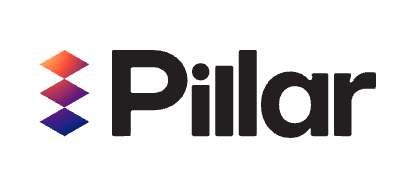 Pillar is building the future of creator income – the ultimate link-in-bio with built-in brand deals, ecommerce, and fanbase engagement tools.